In my quest to clear off my shelves and finally read all those books I promised to long ago, I've chosen
Slated
as my next read. It's actually an ARC copy that I cannot find any documentation for, I'm sorry. :(
The good news is I've devised a system to use once I start entering giveaways and such again.
After
I finish the hard copies that I have, of course.
I do remember why I wanted this one though: the cover and I love my YA Dystopians. It's been a while since I've delved into one so this should be a good time. *crosses fingers*
The Meme Curator & Rules:
Teaser Tuesday is a weekly bookish meme, hosted by MizB of A Daily Rhythm. Anyone can play along! Just do the following:
• Grab your current read
• Open to a random page
• Share two (2) "teaser" sentences from somewhere on that page
• BE CAREFUL NOT TO INCLUDE SPOILERS! (make sure that what you share doesn't give too much away! You don't want to ruin the book for others!)
• Share the title & author, too, so that other TT participants can add the book to their TBR Lists if they like your teasers!
So, without further ado:
My Teaser:
"What are you drawing?"
I show her. Half Mum, half dragon. In a variety of poses. Breathing fire, flying over the house.


---Slated, pg. 45.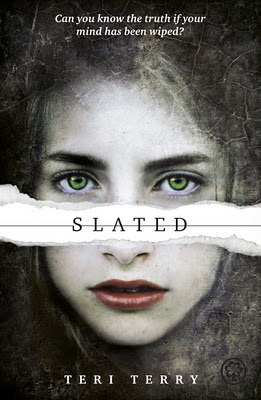 Series: Slated #1
Genre: Dystopian, Mystery, Thriller, Romance,
Age: YA
Format: ARC PPB, 345 pgs.
Source: Given, no idea who anymore :(
Kyla's memory has been erased,
her personality wiped blank,
her memories lost for ever.

She's been Slated.

The government claims she was a terrorist and that they are giving her a second chance - as long as she plays by their rules. But echoes of the past whisper in Kyla's mind. Someone is lying to her, and nothing is as it seems. Who can she trust in her search for the truth?
As always, I'm looking forward to seeing what everyone else is reading and I'd loved to hear about yours. :D