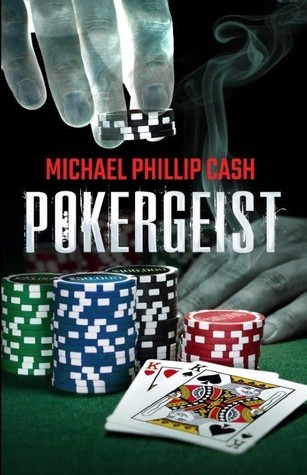 Pokergeist
Michael Phillip Cash
Ghost, Paranormal, Vegas, Comedy
Date Published: July 15, 2015
Publisher: Chelshire, INC.
Sometimes life, as well as death, is about second chances. Luckless Telly Martin doesn't have a clue. An awful gambler trying to scrape by as a professional poker player, he becomes the protégé of world famous poker champion Clutch Henderson. The only catch…Clutch is a ghost. Telly and Clutch must navigate the seedy gambling underbelly of Las Vegas learning to trust each other in order to win the elusive International Series of Poker, repair their shattered personal relationships and find redemption in this life and the hereafter.
Gretchen's shoulders hunched. "I'm not on for another fifteen minutes," she replied. Telly watched her shrink before his eyes. He reached out to take her fingers loosely within his own.
The air felt weighted; an electric current of tension sizzled in the hot air. A cat meowed, breaking the silence.
"You the poker player?"
"I like to play, yes," Telly said defensively.
"Yeah, I bet you're a regular Phil Hellmuth." Rob looked him up and down and then dismissed him. "So I'll see you at the Series, right?"
"The Series?" Telly asked.
"Yeah, doofus. The Series. If you play, you gotta play in that."
"Of course—but I…I think we may have another commitment, right, Gretch?"
Gretchen nodded mutely, her eyes wide. She did not like Rob Couts. Rob stayed longer than he should have, even though he saw Gretchen slide her hand inside Telly's. He looked at their clasped hands and said quietly, "I think it's time for you to leave, Radio."

Gretchen squeezed his hand and said loudly, "Not yet," staring the other man down.
The couple appeared to be having a private moment, but Rob stood watching them. He hawked once, spitting a glob of mucus toward the trash.

"If you change your commitments, I'll see you at the Series. Thirteen minutes left," he said abruptly, pushing through them to go inside. He had wide shoulders and wore short-sleeved shirts so you could see the veining on his muscled arms. Telly felt like a gawky kid next to him. Telly straightened his shoulders, but Rob had already dismissed him.

He looked at her, trying to catch her eyes in the moonlight. "I'm going for the cab job first thing tomorrow. Are you uncomfortable here? Don't go in."
"It's silly. You know I like my job. He's just got a crush on me this week. He'll move on to Jan next week."
"I don't like the way he was looking at you."
For the first time, his mild-mannered girlfriend bristled. "You think I can't take care of myself? I've been on my own since I was seventeen, Telly. I can take care of myself."
"I never doubted that, Gretch," Telly said honestly. He loved her independence. Gretchen had reunited with her mother just recently, after a lifetime of foster care. Her mother had spent Gretchen's youth in a haze of alcohol abuse and drug addiction.
"Go home, Tel. I'll be back by five." She turned toward the door.

Telly reached into his pocket, opening his wallet to pull out a thinly folded ten-dollar bill. It was his emergency cash. When he'd first gotten his license, his mother had given it to him and insisted that he keep it behind his ID card so he would never be without money. He had never used it and was a little sentimental about it. It made Gretchen's insides melt. Telly would give the shirt off his back if she didn't protect him.
"No, Telly!"
"Don't argue with me." He placed it in her palm. "Call a cab. I mean it, Gretchen. Don't walk home." He placed his finger on her lip and then his heart.
Gretchen whispered, "Thick and thin." She kissed him good-night, waving as he left to walk the few blocks home alone.
About The Author:
Michael Phillip Cash is an award-winning and best-selling novelist of horror, paranormal, and science fiction novels. He's written ten books including the best-selling "Brood X", "Stillwell", "The Flip", "The After House", "The Hanging Tree", "Witches Protection Program", "Pokergeist", "Monsterland", "The History Major", and "Battle for Darracia" series. Michael's books are on the Amazon best-seller list and have also won numerous awards. Additionally, he is a screenwriter with 14 specs under his belt. Michael resides on the North Shore of Long Island.


Do you play poker? Are you good at it?

I've been playing poker for 20+ years. Yes, I've won many tournaments, but not a big one. Maybe one day.
What kind of research did you do for Pokergeist?

Since I've been playing poker for 20+ years, the characters in the book were all people I've encountered at the tables in my lifetime.
Do you have a favorite poker player?

Clutch Henderson.
What is your favorite part of the book?

I loved when Telly and Clutch realize they can cheat. Who wouldn't want a ghost that will tell you what the other player's cards are.
Are your characters based off real people or did they all come entirely from your imagination?

All real people. Every single character.
If you could spend time a character from your book whom would it be? And what would you do during that day?

Clutch, no questions asked. I would play poker and he would tell me what everyone was holding!
What was the hardest part writing this novel? The easiest?

I really never have a hard time writing a novel. Since I always start writing the screenplay first, I know where my characters are going and what each of their arcs are.
Superpower of choice?

Teleportation. I'd be in Vegas in 2 seconds..
Dragons or unicorns?

Dragons, always.
Last song you listened to:

'The Face' by Clutch
Last book read:

'Avatar' the screenplay by James Cameron
Favorite social media site:

Twitter
One thing on your bucket list:

Win a World Series of Poker tournament and get a Gold Bracelet.
Are you a fan of poker? What do you think of Pokergeist's premise?