I jumped at the chance to be a host for Rich in Variety and I was so excited when I saw that first emails for sign-ups come through. I couldn't pass up the chance to review The Melody of Me & You even though I have like 8 blog tour reviews going on around this time.
But I clearly make good choices, because I LOVED this! It's just what I needed right now.
Not only do you get to find out why I loved it, I have an awesome interview with M. Hollis below.
About the Book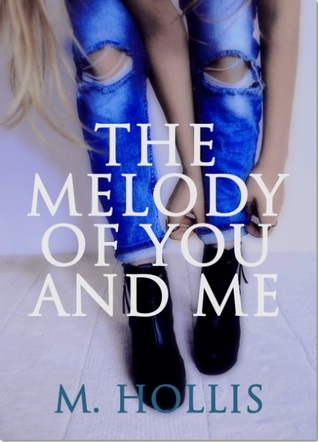 Author:
M. Hollis
Publisher:
Self-Published
Publication Date:
September 29, 2016
Genre(s):
New Adult, Contemporary, Romance, LGBT+
Page Number:
82
After dropping out of university and breaking up with her girlfriend of three years, Chris Morrison's life is now a mind-numbing mess. She doubts that working at the small neighborhood bookstore is going to change that. The rest of her time is spent mostly playing guitar and ignoring the many messages her mother keeps sending her about going back to college.
But one day, an adorable and charming new bookseller waltzes her way into Chris's life. Josie Navarro is sweet, flirty, and she always has a new book in her hands. The two girls start a fast friendship that, for Chris, holds the promise of something more. But is she reading too much into this or is it possible that Josie feels the same way?
So, what did I love about
The Melody of You and Me
?
Everything.
But here are my top reasons & why you should read it too.
"No, actually, I'm pansexual," Chris answers.
Chris:
I adore her. She's so real. I feel like I know her. And if I knew her in meatspace we'd be friends. Her problems with collage and life are so relatable. The pressure to have it all figured out early and focusing on criteria other than what makes you happy.
She has views that I couldn't agree more with; Every time she voiced an opinion I was internally screaming "YESSSS!"
Of course, it's set around a book store so there were recognizable references dropping for happy squee moments. Chris has some great taste.
Right above her desk, a small poster says, Kiss all the pizza, eat all the girls.
Romance:
Chris and Josie are great people separately and OMFG adorbs squared together. Chris is the awkward shy one while Josie's flirty and upfront.
There's some time jumping so while it's a novella, it's not instalove. It's attraction, friends, and then lovers. It's perfect. How they're there for each other and their banter charmed me. They're compatible and I can easily see this working out. In fact, it's harder to ever see them split up.
Though you might want to be careful reading this around other people. I started this book when it was slow at work and hit that first sex scene like (embarrassed smiley). But maybe that's just me.
Progressive as Fuck.
Seriously. I cannot wait to read the rest of this series and find out the other characters happy endings!
Cringing inside, Chris feels the need to interrupt and correct her, but Josie is faster than her.
About the Author
M. Hollis could never decide what to do with her life. From the time she was a child, she has changed her ideas for a career hundreds of times. After writing in hidden notebooks during classes and daydreaming during every spare moment of her day, she decided to fully dedicate herself to her stories. When she isn't scrolling around her social media accounts or reading lots of femslash fanfiction, you'll find her crying about female characters and baking cookies.
What are some day jobs that you have held? If any of them impacted your writing, share an example.

My first job was actually in a bookstore. It was a nice place with so many interesting people. Stressful, but still a job I loved. It brought me close to more LGBT people who made me feel very comfortable, in a similar way that the characters in my novella The Melody of You and Me feel. So a lot of what you see from the bookstore scenes is based in my personal working experience in a romanticized way.

What is your favorite part of Melody of You?

There are a few scenes that come to my mind. Particularly, this one part where Josie and Chris just sit together in Chris's bedroom and talk about dreams and life. It was one of the first images that came to my mind about this book, to have this comfortable and quiet moment just between them in a small space. Also, this scene close to the end, which I won't spoil for the people who didn't read it, but it's what gave the book more meaning around the title.

Can you tell us some of the changes Melody of You went through before publishing?

I had to include a few small things especially about secondary characters that will be important in my future works. Now that I know people actually I want to read more, I can say that I'm already writing the sequel. Some characters will appear in the next novellas and I wanted to show a little bit more of them. There were also a few scenes that I changed places here and there to fix the pacing in the very last draft, based on the amazing feedback I got from all my beta readers.

Is there anything in Melody of You based on someone you know, or events in your own life?

There is a little bit of me and the people I love in everything I write. My friends are always such a big part of my writing process and I like to leave these little details in the story that I know they'll catch right away. Chris's struggle with her major was also something that resonates a lot with what I went through when I was in college. I didn't drop out, but it was an awful time of my life. Recently, some reviewers have been telling me how much this meant to them, to see a character that isn't really sure about their choices in life. It brought tears to my eyes to see that people can see themselves in this story and that they weren't alone in this fear. That's one of my favorite parts of being a writer.

Are you working on another book right now or planning to?

Yes, I always have many projects at different stages of editing. I have a YA book in Portuguese that I hope to publish one day in Brazil. One of my main goals is to publish LGBT stories for young Brazilian people. Sometimes when I talk to people on the internet they don't know this, but I'm Brazilian so most of my stories are set here. This was my first time trying to write something original in English that wasn't just fanfic. But while we are going through the grammar revisions with my other manuscripts, I'm writing the first rough draft of the sequel of The Melody of You and Me. This is actually a series that I want to extend into maybe four novellas. Each story is told from a different POV and brings a completely different love story, but all of them inside the same universe. The next one will be about Lily, who we already know in The Melody. I hope people are excited to see more of her because she is such an interesting character to work with.

What are your writing habits?

I like to have the house to myself and just put some music on. There is no way I can write something good without the right kind of music. It just creates the mood to me and it quiets my mind for a bit so that I can focus. Otherwise, I'll go a million miles an hour and won't settle down to actually write the chapter.

Are there any similar books you'd like to recommend after reading Melody of You so readers can get their fix while waiting for your next book?

Yes, I have a few. Some steamier LGBT stories would be Roller Girl by Vanessa North, First Position by Melissa Brayden and Take me Home by Lorelie Brown. In YA literature one of my favorite reads this year was Colorblind by Siera Maley. Also Crush by S.R. Silcox, and Complementary and Acute by Ella Lions. Not F/F but I want to include here Mina V. Esguerra's Fairy Tale Fail and anything by G.L. Tomas because they are amazing in all of their stories, and a big inspiration for my own work in this book.

If you could spend time a character from your book whom would it be? And what would you do during that day?

Ah, this is a hard one. I adore all of the characters in this series. My first thought was Lily because we are so similar in personality. We'd just hate­watch some really bad movie and complain about life. But Josie would also be such good company because we both love to read cheesy F/F romance so much. I can see us getting lost in the middle of a bookstore for a whole day.

If you could have been the author of any book ever written, which book would you choose?

The book series When Women Were Warriors by Catherine M. Wilson. I still can't believe how good that story is. I remember reading it and thinking: Did this author look into my dreams? That's how perfect it is.

Favorite movie?

I can't choose one! I have so many in my mind right now. Mainly The Mummy, D.E.B.S, and Mamma Mia. I can watch these three movies a thousandth time without getting tired. I probably already did.
In addition to having a blog tour. Maria was generous enough to give away two ebook copies of The Melody of You and Me
Follow the rest of the tour!
How do you feel about the collage pressure and assumptions on teens today? Does The Melody of You and Me sound like something you'd enjoy? Any recommendations of similar novels? Let me know below!