White Nights, Black Paradise
was hard to read and harder to review. I lingered throughout the book, because all this knowledge demands it. It sunk in and left me stuck. I know it will never leave me, forever changing how I view this incident but me as a person.
Before reading this, I knew jackshit about Jonestown, except that a "crazy" cult killed themselves and that's where "drinking the Kool-Aid" phrase from. And I only knew that because someone explained it when an asshole used the phrase online.
I am ashamed of my former ignorance and angry this story, this context, this side isn't the prevailing narrative.
This is the kind of book you tell people to take a deep breath and get to reading. Because they need it.
About the Book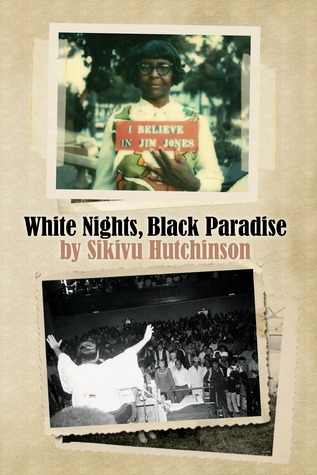 Author:
Sikivu Hutchinson
Publisher:
Self-Published
Publication Date:
November 16, 2015
Genre(s):
Historical Fiction, LGBT+
Page Number:
325
In 1978, Peoples Temple, a Black multiracial church once at the forefront of progressive San Francisco politics, self-destructed in a Guyana jungle settlement named after its leader, the Reverend Jim Jones. Fatally bonded by fear of racist annihilation, the community's greatest symbol of crisis was the White Night; a rehearsal of revolutionary mass suicide that eventually led to the deaths of over 900 church members of all ages, genders and sexual orientations.
White Nights, Black Paradise
focuses on three fictional black women characters who were part of the Peoples Temple movement but took radically different paths to Jonestown: Hy, a drifter and a spiritual seeker, her sister Taryn, an atheist with an inside line on the church's money trail and Ida Lassiter, an activist whose watchdog journalism exposes the rot of corruption, sexual abuse, racism and violence in the church, fueling its exodus to Guyana.
White Nights, Black Paradise
is a riveting story of complicity and resistance; loyalty and betrayal; black struggle and black sacrifice. It locates Peoples Temple and Jonestown in the shadow of the civil rights movement, Black Power, Second Wave feminism and the Great Migration. Recapturing black women's voices,
White Nights, Black Paradise
explores their elusive quest for social justice, home and utopia. In so doing, the novel provides a complex window onto the epic flameout of a movement that was not only an indictment of religious faith but of American democracy.
Purchase the book here:
Amazon // Author Website
First sentence:
The drive from Modesto to Livermore was six degrees of cow dung, a deep rich funk for each rest stop.
White Nights, Black Paradise starts with Taryn and Hy on their way to California. It jumps around from time and place with each chapter, the title being who, where, and when. While I'd definitely say it's mostly about Taryn, Hy, and Ida, there's a smattering of other perspectives filling in the story including Jim Jones himself as a kid.
Each one has its own distinctive voice that I could hear in my head.
There was no trouble remembering who was who or telling them apart.
If my cart was full with the better cuts of meat, I was mistaken for a maid
Throughout it all, the rise and fall, the center is black women. How Jim Jones recruited them, used them, exploited their causes and culture to place them on the bottom rung again. How society, especially white women, treated them. Every angle, problem, with housing, medical care, church, jobs, careers, and children, is
examined from these women's point of view.
They got their people out to rally against all those thug police murderers in the East Bay right before we moved here.
It's chillingly clear how easy it was to believe in the causes and ideals of the People's Temple.
In the beginning, I kept nodding along thinking "YES!"
But the internal hierarchy, the execution made it all a lie and the downward spiral visible. The descent into cult madness is vivid and understandable.
White Nights, Black Paradise
is unforgettable. I had to read it slowly to digest and contemplate along the way. It will hurt, disturb, and make you think. I can't say it was enjoyable, the struggles and pain of black women isn't a romping good time.
It's enlightening, both a tribute and thesis.
A testament to black woman power in all forms and shades. An indictment of white culture, white feminism, media, education, appropriation and injustice.
There's a monster at the end of this book, Grover says, as the patrols start up outside.
Everyone needs to read this
. This is the kind of book that should be taught in a curriculum. A must-read for intersectional feminists,
especially
white women trying to be allies.
Sikivu Hutchinson is amazing.
I first heard of her online as I coming to grips with being an atheist and all that entails. She's changed my life once again. If you don't follow her or read her work, you should.
About the Author
Sikivu Hutchinson is the author of Imagining Transit: Race, Gender, and Transportation Politics in Los Angeles, Moral Combat: Black Atheists, Gender Politics, and the Values Wars, Godless Americana: Race and Religious Rebels and the novelWhite Nights, Black Paradise. She is a contributing editor for The Feminist Wire and founder of the Women's Leadership Project, a feminist humanist high school mentoring program based in South L.A. She has also written and directed a short film based on White Nights, Black Paradise, which is due in Fall 2016.
Connect with the author!
What's one thing you want people to know about the Peoples Temple and Jonestown?

That it began as a social justice movement steeped in black cultural traditions in an era of political and urban unrest, and that black women were the majority of the massacre victims. Many of the same issues that plagued the African American community in the 60's and 70's in San Francisco's Fillmore district (home to the church's main headquarters)—gentrification, displacement, eminent domain, high poverty rates and a MIA Black Church—are still in existence with a vengeance today.

What is the biggest thing that people THINK they know about this subject, that isn't so?

Mainstream "readers" of Jonestown fetishize Jones to the exclusion of examining the complex historical and sociopolitical context that informed black folks' involvement in the Temple and their emigration to Guyana. Fixating on the megalomaniac white savior automatically marginalizes black life, agency and self-determination. Had the majority of those who died in Jonestown been white women there would be tons of film/TV/literary appraisals attempting to parse why this happened in white America. There has been no comparable assessment of Peoples Temple and Jonestown. For example, look at the tons of treatments on the white female Manson murderers forty plus years later.

How do you do feel about the phrase "drinking the Kool-Aid" derived from the mass murder/suicide at Jonestown?

It's a disrespectful misnomer. First of all, the drink was Flavor-Aid, and secondly many of those who died did not elect to drink but were forced to (or forcibly injected). It also erases the lack of intent/agency of the over three hundred children who died in the massacre.

How did you do research for this book? Do you have resources to share?

I read many of the major books on the subject, reviewed literature and primary source material (a treasure trove of reflections from survivors, stats, essays, letters, sound recordings, etc.) at the Alternative Considerations of Jonestown website, interviewed members and survivors and went through material provided by the California Historical Society.

What were the challenges in bringing White Nights, Black Paradise to life?

The novel is the first to focus on the black women of Peoples Temple church and the 1978 massacre. It is also the first to fully situate Peoples Temple/Jonestown within the context of racial/gender politics and the decline of the civil rights movement and Black Power. Seventy five percent of the membership of Peoples Temple was African American. Nonetheless, most of the literary portrayals of Jonestown have focused on white protagonists. As a black feminist writer and researcher this bothered me immensely. The Jonestown victims have been demonized and marginalized—stripped of agency and, in many respects, humanity. This erasure can't be divorced from the cultural invisibility of black women both within the historical record of Peoples Temple and American social history overall. So my initial research was driven by what seemed to be one of the most basic and egregiously unanswered questions—where were the black feminist readings on and scholarship about Peoples Temple and Jonestown?? There has been so much scholarly, historical documentation and analysis of Jonestown that I wanted to craft something that was totally different from the event's "canon" of representation. Fiction allowed me greater creative and imaginative license to envision the lives, motivations, hopes, dreams and ambitions of the black women of Peoples Temple inflected by social, cultural and historical themes such as the failed promise of the Great Migration, urban removal, gender politics, feminism, black female sexuality, internalized racism, the white savior complex/minstrelsy and twentieth century black liberation struggle. It was also important to show the deep diversity in religious belief, sexuality and gender identity that existed in the Temple community. Most works have focused on Jones' conflicted bisexuality and predatory behavior toward male members of the church; to the exclusion of a more full-bodied representation of the subjectivity of LGBTQ members. In addition to being queer, the novel's lead protagonist is an atheist black woman, while her sister is an agnostic.

I love your blog, is there one post you'd like to share with us today?

Black Women's Film Confronts the Whitewashing of Jonestown or Straight Privilege Kills: Criminalizing Queer Youth of Color

What is your proudest accomplishment?

I would say that a "proud moment" in my career has been founding a feminist-humanist of color mentoring and advocacy program called the Women's Leadership Project. Over the past decade, the WLP has been based in South Los Angeles schools like Gardena High School, Washington Prep HS, Audubon Middle School and King-Drew Magnet of Medicine and Science. Through the WLP I've had the opportunity to assist two generations of "first in the family" students who are undocumented, LGBTQ, foster care and system-involved go on to college, careers and community activism. Also, having the opportunity to teach and mentor Black girls dehumanized on a daily basis in K-12 schools and classrooms has been galvanic. For example, whenever we do lessons/outreach on the high rates of sexual assault and sexual violence in our communities and families black girls are either silent or in denial—defending their own victimization, disidentifying with other black women and girls, and invoking respectability politics. They've been socialized to respond this way due to the normalization of misogynoirist hetero-normative violence against black women and girls in mainstream media and the dominant culture. Of course, this is also informed by their invisibility in public school curricula. Last year when we were reading about Claudette Colvin (whose experiences with sexual harassment and colorism are still profoundly relevant today) one of my Women's Leadership Project students wondered why "we hadn't heard of her" if she was so significant. This was raised in a class where the girls (most of whom are sexual and/or domestic violence survivors) struggled deeply with self-love, sexual identity and colorist hostility. When I was growing up the majority of the black women historical figures and leaders that I was exposed to was in literature provided to me by my parents. There were virtually no textbooks or other classroom representations that reflected our social history, culture and lived experience. This is still the case decades later, and my students are living the nightmare of this form of educational apartheid; in a context where a third are in foster care and the majority have been impacted by mass incarceration. This has strengthened my commitment to developing an "unapologetically" Black feminist and humanist teaching practice.

What has been the best compliment you've received as an author?

Probably that my work on the intersection of atheism, humanism and black feminism has broken new ground vis-à-vis gender/racial politics, economic justice and American religious hierarchies.

What are your current projects?

I just wrapped on a short film adaptation of White Nights, Black Paradise, which will be debuting at USC's Center for Religion and Civic Culture in Los Angeles around the Jonestown anniversary on November 17th. I'm currently working on a historical fiction novel very loosely based on the life of Rosetta Tharpe, the forerunning African American bisexual guitar player whose career spanned from the late 30s into the 1970s. The novel focuses on race/gender and sexuality vis-à-vis the rock music industry and political turbulence in Carter/Reagan era America.

What books have most influenced your life most?

bell hooks' Yearning, Toni Morrison'sThe Bluest Eye, Don DeLillo's Libra,Alice Walker's In Search of Our Mothers' Gardens, Joyce Carol Oates' early short story collections, Patricia Hill Collins' Black Feminist Intellectual Thought, Gayl Jones'Eva's Man and Isabel Wilkerson'sThe Warmth of Other Suns have been rich influences.
Follow the Tour:
October 3, 2016
Spotlight
October 4, 2016
Brooke Banks
Review & Author Interview
October 5, 2016
Ceillie Simkiss
Review & Movie Cast
October 6, 2016
Isabella
Review & Book Spotlight
October 7, 2016
Monica Kelley
Review & Book Spotlight
October 8, 2016
Melanie Barksdale
Book Spotlight
Sign up today!